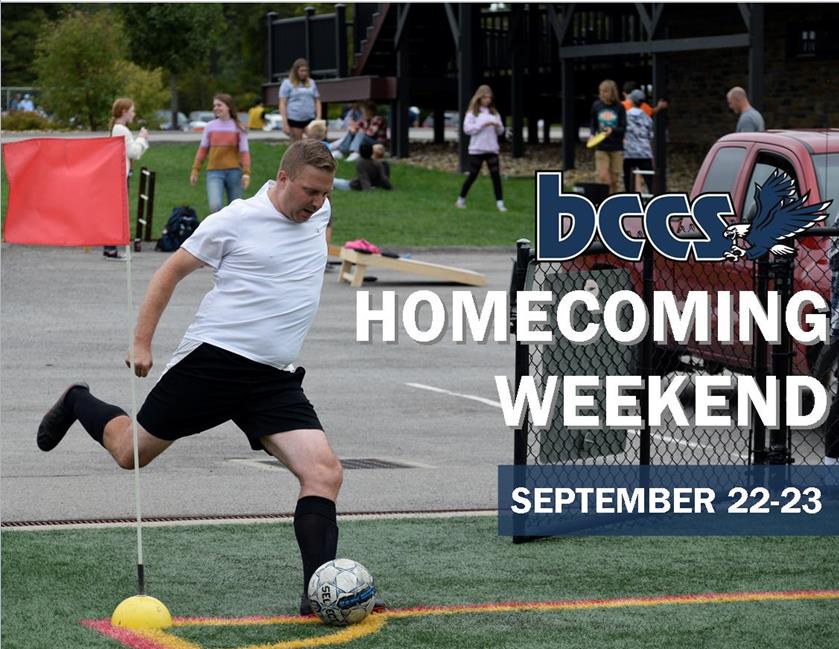 We're thrilled to welcome BCCS alumni back for our annual Homecoming activities. Check out this year's schedule of events and use the form below to register!
5:00 pm - 7:30 pm - Food Trucks
5:30 pm - Alumni Men's Soccer Scrimmage*
7:00 pm - BCCS Men's Soccer Game
7:00 pm - Alumni and Friends Viewing Party and Reception*
Stop by the fieldhouse during the men's soccer game to grab some drinks and refreshments, visit with former teachers and alumni, and learn more about what God is doing at BCCS!
1:00 - 3:00 pm - Family Carnival
2:00 pm - Alumni Women's Volleyball Scrimmage*
3:00 pm - Alumni Basketball Scrimmage*
* If you plan on participating in an alumni event, please register using the form below, or contact Molly Beckhusen, Director of Advancement at mbeckhusen@bccspa.org